EVG Nanoimprint Lithography Technology
A 6″ full area nanoimprinted wafer, processed by EVG NIL solutions
EVG's SmartNIL technology stands out the company in the UV nanoimprint lithography market. In conjunction with a multi-use softstamp technology, SmartNIL provides unprecedented throughput, while maintaining maintenance-friendly operation and scalability with cost of ownership advantages.  The innovative technology realizes a low-cost and high- volume nanoimprint lithography technique for mass production of LEDs, photonics, optics, advanced data storage, as well as biotechnology devices such as microfluidics.
Technical Specifications of SmartNIL™ Imprint Technology: 
| Parameter | SmartNIL™ |
| --- | --- |
| Resolution | 40nm in HVM; down to sub 15nm in R&D |
| Throughput | > 60 units per hour |
| Light Source | Broadband exposure |
| Automated Separation | Integrated |
| Inert Gas Printing | Integrated |
| Multi-use Polymer Stamps | > 100 imprints/ stamp |
| Stamp Fabrication | Integrated |
| Open Material Platform | Open for all commercially available imprint materials |
| Alignment | Optional top side alignment |
Key Features of SmartNIL™ Imprint Technology
SmartNIL technology in first print mode delivers a throughput of > 60 units/hour, making it the fastest full substrate soft UV-NIL solution in the world. The following are the key features of SmartNIL™ Imprint Technology:
Imprint over topographies

Top side alignment

Optical clearance with no visible vacuum lines in active imprint area
Key Features of SmartNIL™ Stamp Technology
Helps achieving the lowest cumulated processing costs

Addresses cost and service life of incoming master stamp, a key characteristic in nanoimprint lithography

Long range structure distortion and thermal mismatch can be avoided, thanks to room temperature and integrated stamp fabrication

Low surface adhesion material facilitates isolation of substrate and stamp, while reducing friction

Self cleaning properties of flexible stamp enable less particle sensitive imprint process with better overall processing yield

Fabrication of SmartNIL stamps takes only minutes when compared to a PDMS casting process that takes 24 hours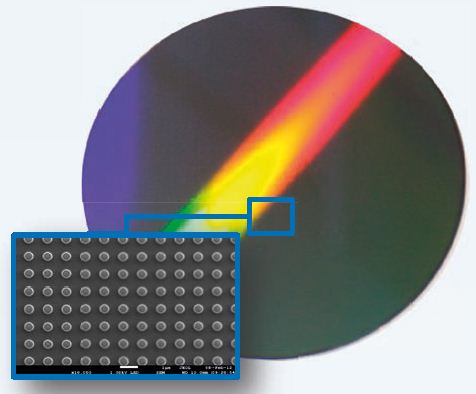 Figure 1. Top image: SmartNIL™ replicated 150 mm substrate with 400nm dots. Left image: SEM close up of 400nm replicated dots.
 Source: http://www.azonano.com/